Catch The COMET's Soda Cap Connector to NCAA March Madness On March 21, 22 and 24, 2019
March 12, 2019
Check out our tips for getting to, from, and around Columbia during the NCAA March Madness!   The COMET can get you a front-row seat to all the action – basketball festivities, top-notch restaurants, and vibrant neighborhoods – without the headaches thanks to our manageable traffic, convenient parking, and affordable prices.
CATCH THE SODA CAP CONNECTOR
Columbia's transit system is noticeable by its neon-painted buses. Look for the Soda Cap signs around town to hop on this free connector, taking you from one entertainment district to another.
Soda Cap Connector Hours
Thursday, March 21: 9 AM – 12 Midnight
Friday, March 22: 9 AM – 1 AM
Sunday, March 24: 9 AM – 6 PM or two hours after the final game ends, whichever is later.
Click here to check this detailed document to find stops near you and learn how to ride.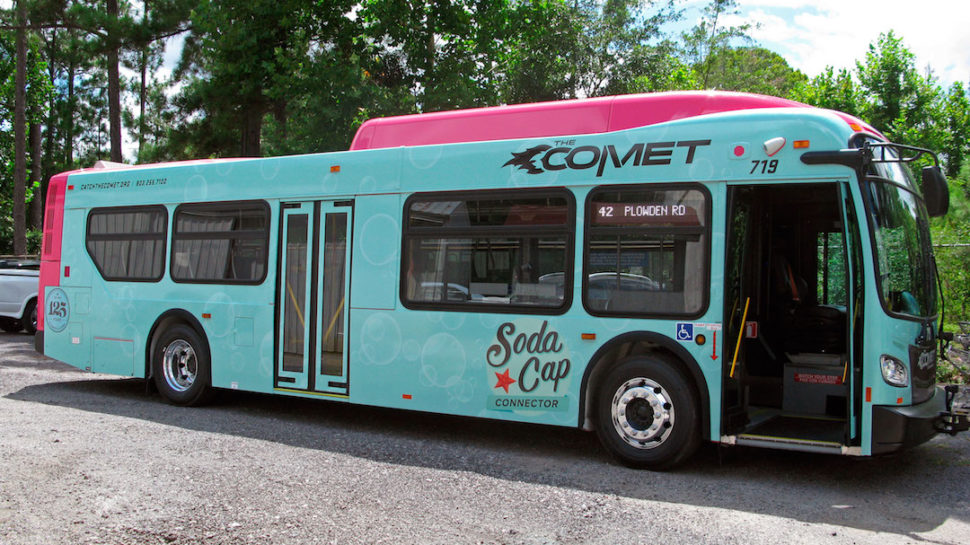 CATCH THE COMET
The COMET is the Columbia Metropolitan Area's transit system with 39 bus routes and a paratransit program for persons with disabilities. The COMET can take you to Colonial Life Arena and downtown hotels. Visit the website or call (803) 255-7100 for more information on fares, routes and schedules.
if you are flying into Columbia, try riding The COMET Route 28, which runs hourly from 5 AM to 8 PM between the Airport and Downtown Columbia with stops on Assembly Street, two blocks away from the Colonial Life Arena and major hotels in the downtown area.  The COMET Route 28 routes, fares and schedule are available through this link.
Additional perks for The COMET riders going to NCAA March Madness includes:
Your Lyft & Uber ride can be discounted up to $5.00. Code is available onboard The COMET and Soda Cap Connector buses.
If you purchase a day pass for The COMET bus while on the bus, you can rent your Blue Bike for free. Just ask your bus operator for the code. Start your rental here.
More information about NCAA March Madness is here: https://www.columbiascsports.com/